Goal: To stay in Denmark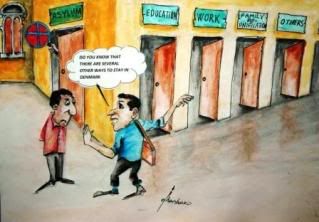 The ultimate goal for asylum seekers arriving in Denmark is to get a residence permit to stay here, living happily. And maybe later to marry a nice Dane, or open a restaurant. But how?
There are several options of how to get a residence permit, but there are many complicated rules and procedures to set the integration process going; not least because the goals for the asylum seeker and the Danish government differ. Guidelines to obtaining a residence permit through asylum, study, work and marriage have been put in place and can often be overwhelming: the 24 year rule, for example, or the Positive List for work. My aim here is to try to help you through the maze of ways to stay in Denmark.
Asylum
In order to be granted a residence permit on the basis of an asylum claim, a refugee must meet the conditions listed in the United Nations Refugee Convention, or the conditions for Protected Status as defined in Section 7 of the Danish Aliens Act.
A residence permit on the basis of an asylum claim is granted to a person who is outside his or her country of origin, due to a well-founded fear of being persecuted for reasons of race, religion, nationality, membership of a particular social group, or political opinion. This is sometimes called "convention status", in Danish, konventionsflygtning.

Asylum may also be granted to asylum seekers who risk the death penalty, torture, inhumane or degrading treatment or punishment, if they return to their country of origin. This is called "protected status" (beskyttelsesstatus in Danish).
There are certain conditions attached, depending on what type of asylum you have and how long you have been in Denmark. For example you may not travel to your home country for at least 3 years and you may not leave Denmark for more than six to twelve months.

Humanitarian residency
An asylum seeker may also get a residence permit on humanitarian grounds, if significant humanitarian considerations warrant it. For example, if he or she suffers from a serious physical or psychological illness, or if the application concerns a family with young children who come from a nation at war.
A humanitarian residence permit is valid for 6 months at a time. This is granted very rarely, and should not be a first option. If the person recovers to a certain extent from their illness, then they may be deemed fit and sent home.

The Danish Parliament has decided that humanitarian residence permits should be the exception, not the rule. Indeed it is very difficult to get a humanitarian residence permit. You can make applications for political asylum and a humanitarian residence permit at the same time. Then, if you fail to get political asylum, you still have a chance on humanitarian grounds. You should apply to the Ministry of Refugee, Immigration and Integration Affairs for a humanitarian residence permit. . If you apply within 15 days of being registered as an asylum seeker, you will be permitted to remain in Denmark until both applications (the political and the humanitarian) are fully processed.

Getting asylum (political or protected status) or a residence permit on humanitarian grounds in Denmark is uncertain. Although the requirements in the convention seem clear, they are interpreted differently in different countries. It is up to the individual country to assess the risks and situation of each applicant and decisions about the actual dangers or degree of illness are almost always controversial and differ from country to country. For example, a lower proportion of refugees get asylum in Denmark than in Sweden.
Study
Study can be a route to getting a residence permit in the short term. Most asylum seekers want to use the waiting time positively and many take the opportunity to study. Once accepted on a course, you can then, in certain circumstances, apply for a residence permit to continue your studies. Normally, to study in Denmark you must have obtained a residence permit before entering Denmark. If you submit your application after entering the country, the Immigration Service may refuse your application and you will have to return to your country of origin or residence and submit a new application from there.

However, there are exceptions if you are an asylum seeker in as much as you can apply while in Denmark. You can do this at any time. Asylum seekers can study at any educational level; vocational, such as hair dressing, technical, such as a multimedia course, or an academic course. You have to be enrolled on a course of further education which is approved by a state authority or which is offered by a state-approved educational institution and you must prove that you can speak and understand the language used to teach the course, and that you can speak and understand Danish, Swedish, Norwegian, English or German at a reasonable level.

If you are accepted on a course, your status remains that of an asylum seeker, you still live in the centre and your fees will be paid by the Red Cross. The situation changes if you get a negative decision on your asylum case. If you get negative, you are normally required to leave the country within a short period of time and you thus risk being unable to complete your studies even though in practice, an asylum seeker is allowed to keep studying until the actual day of deportation.

However, a rejected asylum seeker can apply for a residence permit in order to complete their studies if they pay their own fees and support themselves. If the Immigration Service accepts this application for processing, you may stay in the country during the processing. If the Immigration Service refuses your application, you can appeal the decision to the Ministry of Refugee, Immigration and Integration Affairs.
If your application is accepted, then you have the bonus that you can remain in the country for six months after you have finished your education/training in order to look for work. You will also be granted a permit to work 15 hours a week alongside your studies as well taking full-time work in June, July and August.

Anyone interested in studying should make an appointment to talk with Lars Brögger at the Red Cross House in Frederiksberg (HCØ) to discuss the possibilities. Lars explains:

"Taking a training or study course is very demanding and the Red Cross needs to be sure that the course the asylum seeker chooses is the right one for them and that they will succeed at it, despite the long hours, the transport and other difficulties. Red Cross wants the best for each asylum seeker, and at the same time it wants to spend its limited budget in the most effective way possible. Decisions about who can take a course are made on an individual basis. Assessment starts with a skills review (kompetence afklaring). This covers schooling, further education or training, previous jobs, interests, hobbies, languages and intentions as to future work and the prospects. Personality is also important, for example, people need to show that they are reliable, for example through carrying out their duties in the centre, and that the area of training / study is right for them, for example through an internal or external praktik."

Language is often a key factor in the decision making process. For example, to take a hair dressing course people need to speak good Danish. Likewise, most undergraduate classes are only offered in Danish. Graduate courses may be in Danish or English so be sure to check. In all cases you will need to have a certificate of competence in the course language; for example, TOEFL or IELTS if your preferred field of study is offered in English.

Those who wish to take an academic course first need to get their degrees, diplomas and certificates accredited by the Danish authorities. This is not difficult, but you need to have original copies of your certificates and you may need to get an official, certified translation if they are in Arabic for example. Lars can advise you on how to send the documents to CIRIUS, (the authority within the Danish Ministry of Science, Technology and Innovation).

A further point to bear in mind when choosing a course, especially a higher technical one, is whether the course curriculum includes a period of job training. Normally the job training element has to be a paid position within a company. Because asylum seekers are not allowed to work, they are not able to complete this requirement and thus will not get the full, final diploma.

Note, if you get positive i.e. residency on the basis of your claim to asylum, the kommune will normally allow you to continue studying and will take over paying your fees.
Work
The specific requirements in connection with living and working in Denmark depend, first and foremost, on a person's nationality and qualifications. There is free movement within Europe, but if you come from outside Europe, you can face difficulties.

It is the individual's own responsibility to obtain a work permit if required. If you work illegally in Denmark, you risk deportation, and you and your employer risk fine or imprisonment. Normally, professional or labour market considerations must warrant a residence and work permit, for example, if there is a lack of workers in Denmark who can carry out a specific type of work.
Special Schemes
A number of schemes have been designed in order to make it easier for highly qualified foreign professionals to get a residence and work permit in Denmark. Those that are relevant for asylum seekers are the Positive List and the Pay Limit Scheme.

The Positive List is a list of the professions and fields where there is currently a shortage of qualified professionals. Persons who have been offered a job in one of these professions or fields have particularly easy access to the Danish labour market. The scheme also applies to persons who have applied for asylum in Denmark. If your job or profession is listed on the Positive List, you can be granted a residence and work permit for up to three years with a possibility of an extension of up to four years. For example, there is a lack of doctors, so it is easier to get work and a residence permit if you are a qualified doctor.

To get a residence permit, you must have a written job contract or job offer which specifies salary and employment conditions. The salary and employment conditions must correspond to Danish standards. In some cases, you must obtain a Danish authorisation in order to be able to practice your job. For example, foreign-trained doctors must be authorised by the Danish National Board of Health.

The list of professions on the list is extensive and is updated regularly, therefore it is important you check the list at
http://www.nyidanmark.dk/en-us/coming_to_dk/work/positivelist/positive_list_overview.htm.

A few examples of the jobs on the positive list are: Academic work (Engineering, Lawyer..), construction, IT and telecommunication, management, education, social and religious work, sales, purchases and marketing, health, healthcare and personal care, freight forwarding, postal services, storage and engine operation.

A further option is the Pay Limit Scheme. If you can find a job that offers a salary of over 375,000 DDK per year you can apply for a residence permit on the basis of the job and you will then be able to leave the asylum system.

Lars Brögger in HCØ advises and helps asylum seekers to get a job through the positive list and Pay Limit Scheme.
Note, the Job Card or Green Card scheme does not apply to asylum seekers. It is a residence permit based solely on your qualifications, is valid for three years and assumes you can support yourself throughout the entire period of your stay. The residence permit entitles you to both look for and accept work.
Family Reunification
If you have close relatives in Denmark, you can apply for a residence permit on the grounds of family reunification. The Danish rules differ from, and are stricter than the European Law. However, you should be aware that despite what you may be told, the European Laws do apply in Denmark. You will need to do a lot of investigation in order to apply for family reunification.

Provided that certain conditions are met, residence permits can be granted to: spouses, registered partners, cohabiting partners and children.
http://www.nyidanmark.dk/en-us/coming_to_dk/familyreunification/spouses/

First it is important to point out that you can not get married solely for the purpose of obtaining a residence permit. Your marriage or registered partnership must be recognized by Danish law and it must have been entered into voluntarily. Both partners must be over the age of 24, this is called the 24 - year rule. There are other requirements such as having a house and that your spouse/partner may not have received certain types of public assistance within the past 12 months. There are some special situations where not all requirements are necessary, for example if your spouse holds a residence permit on the grounds of asylum or protection and still risks persecution in his/her country of origin, or if your spouse's job is on the Positive List.

Parents aged over 60 years do not have a right to come and live with their children.
If a person (Dane or foreigner) wants to marry a third-country national the prospective spouse has to show that they have a closer connection to Denmark than to their home country. If a couple wants to separate before seven years of marriage, then the "unified" person (often the woman) will be forced to return home.
Asylum seekers are prohibited from marrying while awaiting the decision on their asylum application. But they can apply for dispensation at Civilstyrelsen (The Civil Affairs Agency): www.civilstyrelsen.dk

There are special considerations for children.
http://www.nyidanmark.dk/en-us/coming_to_dk/familyreunification/children.htm

The child must be under 15 at the time that the permit is applied for and not married, among other requirements. The parent must hold a residence permit of some kind. The parents must prove that they have adequate housing to meet the Housing Requirement, good financial status to meet the Support Requirement. There is also the Attachment Requirement; a parent must show that the child has more reason to be with one parent rather than with the other. There must be no history of abuse. However, exceptions to some requirements can be made, especially if one or more parents have asylum.
Another Option
If rejected, there is another option. This is not recommended, and can lead to many hardships, but one can go underground. Anyone deciding to do this should contact Refugees Underground. This organization will provide legal assistance and try for an appeal. http://www.flygtningeunderjorden.dk/page2.php
Further information
www.nyidanmark.dk . This is the official government site with all information for people "new in Denmark". The website supports many other languages.

Dansk Flygtningehjælp (The Danish Refugee Council) has a legal counselling unit at the asylum department, Borgergade 10, Postbox 53, 1002 København K. www.flygtningehjælp.dk Email: advice@drc.dk. They have free legal counselling for asylum seekers every Wednesday from 13.00 – 15.00. You need to present your questions in Danish or English. B
Lars Brögger, 3rd Floor, Red Cross House in Frederiksberg, H. C. Ørstedsvej 47, 1879 Frederiksberg C
---
Vox Pop
Asylum and the law
New Times Magazines
Newsletter Sign Up