Sandholm Kindergarten
The Kindergarten in Sandholm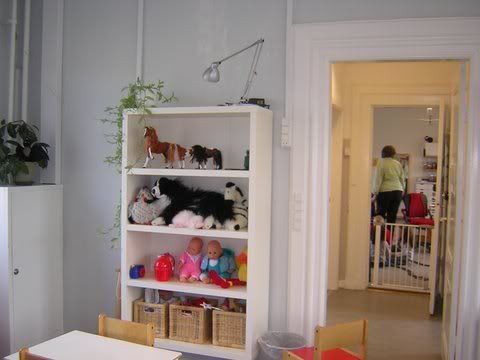 by Etta Abiyo
As asylum seekers the education and the safety of our children is especially important. The kindergarten
in Sandholm center has been a life line for most parents, especially those with children born in the
center and those who have been there for many years.

I interviewed one of the teachers, Susanne Kruger who has been a part of the kindergarten
for the past sixteen and a half years. She shared some of her experiences with me.
"Every day is a new adventure and sometimes its difficult not to get attached to some of the
children or their parents. We try to over come the language problems by using body language
to teach the kids what is expected of them until they get into a routine and we also try to
be a support system for families experiencing difficulties," says Susanne.
At first most parents are nervous about leaving their kids with strangers, but they are never left unattended at any time and when they play outside there are always teachers watching them as well as the added safety of a security fence. Parents are always welcome to sit in and observe what goes on while helping their children settle in. Susanne explains, "We encourage parents to come in for a chat about any problems the children might be experiencing with settling down."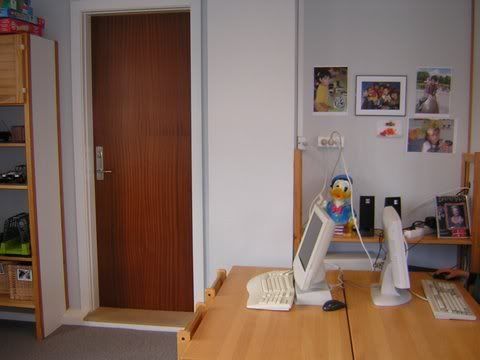 Unfortunately the kindergarten does not cater for small babies because of lack of space and staff, so only children from the ages of two up to six are catered for. The kindergarten is open Mondays to Fridays 8.30am to 12 pm then opens after lunch 1pm to 3.45 pm.The children have toys to play with and two computers but they have no internetconnection, but only children`s games. The children are given fruit and bread during the day. Birthdays are made very special a child`s birthday is celebrated with cake and snacks and presents just to make the children feel some normality on their special day.

Most parents feel that the kindergarten not only helps their children make friends it helps them to adjust into the whole asylum situation by keeping them occupied. The kindergarten also offers family trips to different places .It also gives some parents free time to be able to go to school or just take a break once in a while knowing that their children or child is safe.

As a mother i would like to encourage other parents to spend time with the teachers in the kindergarten get to know them watch how they look after your children help out when you can you will learn to appreciate it what they do .